Bill C-6
The proposed federal law that purports to ban conversion therapy is an ill-conceived piece of legislation that puts Canadian trans-identified youth at risk of medical harm because it will remove access to supportive psychotherapy treatment options for children struggling with gender-related distress. This consequence of the Bill is in stark contrast to how other countries are dealing with the uncertainties of medical transition for youth, including the need to exercise caution and make psychotherapeutic treatment options readily available.
Landmark Ruling in the UK
The UK's highest court handed down a landmark ruling yesterday: that children are not capable of informed consent to medical gender transition. As of Dec 1, 2020 all youth in the UK will require a "best interests" court order prior to being referred as a candidate for medical transition treatments at the Gender Identity Development Service (GIDS). This includes for children aged 16 and 17 if there is "any doubt" that medical transition is in their best interests.
The fall-out of this ruling is that psychotherapy will become the 1st line of treatment for youth experiencing gender dysphoria in the UK.
The National Health Services issued a revised service specification for GIDS that can be accessed here. An excerpt is below: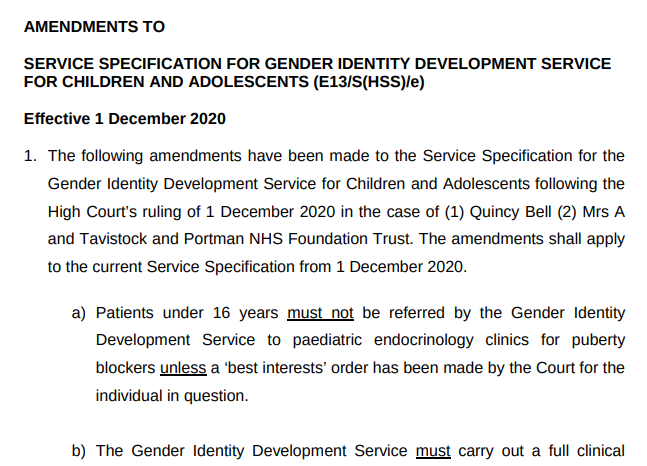 Canada – "Nothing to see here"
Referrals to gender clinics in Canada are following the same exponentially increasing trend as other western countries. And, our Canadian government is moving forward with a ban on conversion therapy (Bill C-6) that will effectively eliminate access to agenda-free, supportive psychotherapy services for Canadian children struggling with gender-related distress.
Source: Trans Youth Can!
Yesterday was the first day of witness testimony on Bill C-6. Anyone who watched the proceedings would have felt there were two separate conversations going on. One about survivors of conversion therapy – the forced and degrading kind that results in harm; and the other about science and evidence related to irreversible medical treatments that can result in medical harm if they are not administered in a patient's long-term best interest. The conflation of these 2 topics in a single piece of legislation is very dangerous.
The lack of interest and questions by some of our MP's to understand concerns related to the exponential increase in young Canadians being medically transitioned was particularly alarming. One wonders who has been lobbying our government to take such a dogmatic and single-minded approach. Here's what we know:
Lobbying for increased access to medical transitioning services and a ban on "gender conversion therapy"
Provincial health authorities rely on the World Professional Association of Transgender Health (WPATH) standard of care, which is not evidence-based and for which there are growing COI (conflict of interest) concerns. See our report here.
CPATH (the Canadian arm of WPATH) recently declared that the WPATH Standard of Care v7 is no longer acceptable because it imposes too many restrictions:
SOC-7 emphasizes the importance of mental health professionals' role in diagnosing gender dysphoria and in assessing the appropriateness and readiness for gender-affirming medical treatments. By contrast, the informed consent model for gender-affirming treatment seeks to acknowledge and better support the patient's right to, and capability for, personal autonomy in choosing care options without the required involvement of a mental health professional.

CPATH Brief to the Standing Committee on Health 2019
In the CPATH Brief to the Federal government's Standing Committee on Health presented in May 2019, CPATH states that "informed consent as a model of care has evolved as an alternative to the standard model of care recommended by WPATH's SOC". CPATH does not make any distinction between children and adults in this briefing document to the Canadian federal government. Recommendation #2 in this briefing calls out the need for banning "gender conversion therapy" and the definition found in Bill C-6 is the same as CPATH's recommendation.
CPATH notes the exponential increase in gender diverse children seeking various forms of medical transition:
"Internationally, clinics serving gender diverse children and adolescents are reporting four to five -fold increases in the number of patients presenting annually. It is important to note that not all transpeople want or require medical or surgical intervention and for those who do require surgical intervention, procedures required vary on an individual basis."

CPATH
Access to fully funded medical transitioning services, an approach CPATH lobbies for heavily in this document is of critical importance to ensure "personal autonomy in choosing care options without the required involvement of a mental health professional". Again, there is no attempt to differentiate children from adults in terms of the "personal autonomy" that they may be able to exercise when making these life-changing decisions.
Trans Youth Can!, an organization running an observational study of youth in Canada taking puberty blockers and cross-sex hormones (the many limitations of which we've written about here) notes that in 2020 five out of 10 of Canada's gender clinics for youth no longer require any type of mental health assessment prior to initiating puberty blockers or cross-sex hormones. This has changed in only the past 5 years. Previously, all gender clinics in Canada required a mental health assessment and considered medical transitioning for children as a last resort.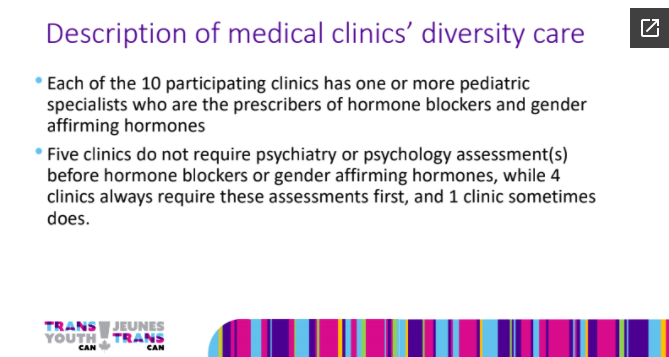 What Canadian Families Are Saying
Many Canadian families who are very supportive of their trans-identified children are expressing shock at the ease with which kids are being prescribed puberty blockers and cross-sex hormones.
"I would like to clarify that it wasn't difficult finding well-meaning gender-affirming care professionals who quickly agreed with my child that she should proceed with testosterone shots, purchase a chest binder and eventually have a double mastectomy. (This was all determined after two appointments with a psychologist and one consultation appointment with an endocrinologist at __Children's Hospital). My child also received instant affirmation from the GP I first sought help from. That GP did not do a mental health screening or order blood tests that are usually done to rule out medical conditions that are associated with depression.

What was difficult, was finding a professional who would explore the source and severity of my child's gender dysphoria, address her depression and anxiety, screen for common co-occurring mental health conditions order blood tests, or attempt to discuss the risks as well as the benefits of transitioning.

She did not require parental consent to start cross sex hormone injections. The result of some gentle challenge and information seeking was a teen who eventually received help for her co-occurring conditions, accepted her sexuality and now lives comfortably in her body without the need for multiple surgeries and lifelong hormone injections."

– Western Canada
And another:
"She had recently been seeing a psychotherapist that was coaching her on what to say to Sick Kids to get hormone treatment right away. Our daughter had disclosed this to us after the third visit. Lastly, her gender dysphoria has come about suddenly with the onset of puberty at age 14 with no previous indication of gender identity issues. Our daughter denied all of this during this interview.

We left the hospital shocked at the outcome. Not feeling that a one-hour long interview with a child and ignoring all parental input and concerns was sufficient to start on a course of hormones. We never returned to Sick Kids hospital."

– Toronto based family
---
Informed Consent?
Informed consent has been adopted as the primary model of access to invasive medical transition options in Canada. Puberty blockers and cross-sex hormones are becoming the 1st line of treatment and GP's are very quickly referring children to specialized gender clinics that no longer offer assessments or psychotherapy services to assist patients in living fulfilling lives without medically transitioning. Canadian families already find it almost impossible to access non-invasive alternatives to medical transition for their children.
A key factor in the UK decision was the lack of information provided to youth in order for them to be able to give "informed consent". The clinics had not been following up with patients to determine outcomes or assess the efficacy of the treatments. If the clinicians don't understand the possible risks or benefits of the treatments, how can a young person possibly give informed consent?
A BC parent is already challenging informed consent law in that province. Detransitioners or parents could start challenging a youth's ability to consent to puberty blockers or cross-sex hormones. Detrans Canada, a newly formed advocacy group for detransitioners in Canada says: Children who medically transition do not fully understand how serious and irreversible the process is. Our members often report not understanding the transition process and naively believing that their sex-change operation would resolve all of their mental health issues, and/or actually transform them into the opposite sex.
Bill C-6 will leave Canadians without access to necessary healthcare
At the same time as the UK and other western nations are questioning the evidence and long-term benefits of medical gender transitioning for children, Canada is moving forward with an all-encompassing ban on "conversion therapy". There are several areas of concern with Bill C-6 (full text here):
There are 2 sections of the Bill. One aimed at "forced" conversion therapy and a different one aimed at children:

The types of therapy being banned for children include open and agenda-free psychotherapy options because the Bill does not specify that the therapy directed at children needs to be coercive in nature or cause harm. Further, the exemption provided for "exploration" is completely inadequate to provide confidence to mental health clinicians that they are not practising conversion therapy should their client end up becoming comfortable in their own body.
Dr Zucker and Dr Cantor, both recognized experts in the field of gender dysphoria and sexology, appeared as witnesses for the justice committee on December 1st and both stated their position that gender identity should be removed from the Bill. Barring that, Dr Zucker advised the committee that the current exemption for "exploration" was clearly inadequate because it did not provide any objective markers for the courts to decide what would constitute exploration vs an attempt to change one's identity. He requested that the government "convene a panel of experts in treating gender dysphoria to come up with consensus guidelines" so that clinicians in Canada would be able to understand what is considered acceptable vs not.
Exception language in the Bill:

Without clarification of the vague exemption of "exploration", providing psychotherapy services that would help a child become comfortable in their own body may be considered conversion therapy because the definition of conversion therapy in the Bill includes any service that may result in a change of one's gender identity to "cisgender" – a new term most often construed as meaning an identity that is aligned with one's biological sex. This will also restrict access to therapy options for detransitioners who have tried medical transitioning and have realized that this did not resolve feelings of gender dysphoria or other co-occurring psychological issues. Some detransitioners, though not all, end up re-identifying with their birth sex.

Notably missing from the Bill is any mention of "harm". Agenda-free psychotherapy services that help children alleviate or ameliorate feelings of gender dysphoria are being criminalized without the requirement of proof that they caused harm to a specific individual.
Would it be a crime for parents to access healthcare outside of Canada for their gender dysphoric child?
Bill C-6 also includes a section on "removal of a child from the country":
Psychotherapy has just become the default treatment pathway in the UK, Sweden and Finland. Canadian families are already finding it challenging to access psychotherapy options for their gender dysphoric children. Should Bill C-6 be passed in its current form, it could be considered a crime to remove a child from Canada to access psychotherapy services for gender dysphoria that are in place in other countries and have been developed with accredited experts and healthcare institutions. It would clearly not be a crime to remove a child from Canada to seek faster access to medical transition treatments, including gender-affirming surgeries. This disconnect needs to be resolved.
Conclusion
The situation fast developing in Canada is unacceptable for families looking out for the best interests of their trans-identified children. Given the actions of the UK high court as well as government investigations that have been called to review this area of healthcare practice in the UK and Sweden, and the new clinical guidelines published only months ago in Finland after a review of evidence and protocols there, it is clear that Canada is engaged in an uncontrolled medical experiment on children and we have no idea what the outcome may be.
It is a mistake for our gender clinics to limit access to supportive psychotherapy treatment options as a valid alternative to medical gender transitioning when there is no objective or conclusive evidence that these more invasive and often irreversible interventions will result in better long-term health outcomes.
The bigger mistake is for our legislators to believe they should have a hand in determining best practices for healthcare professionals in this highly contentious and poorly understood area. Our legislators must remove gender identity from Bill C-6 or provide an explicit exemption that allows parents and therapists to pursue agenda-free psychotherapy services to alleviate gender-related distress without the threat of criminal prosecution.