Update: May 5, 2021 The U-turn is official.
Sweden has officially ended the practice of prescribing puberty blockers and cross-sex hormones for minors under age 18. They have recognized the experimental nature of treating minors with puberty blockers and hormones and have established new protocols that deviate significantly from WPATH and the "professional associations" that the Canadian government and healthcare authorities are listening to. You can access the official documents and read more at the summary published by the Society for Evidence-based Gender Medicine.
Original post:
Is Gender Transition Medically Necessary?
The graph below shows all referrals to gender clinics in Sweden. The inverted U shape of the curve is extremely interesting. Referrals to gender clinics fell off a cliff in 2019. Why? And why no rebound? Does the Swedish experience tell us something about the hype and potential disillusionment surrounding the practice of medically transitioning children?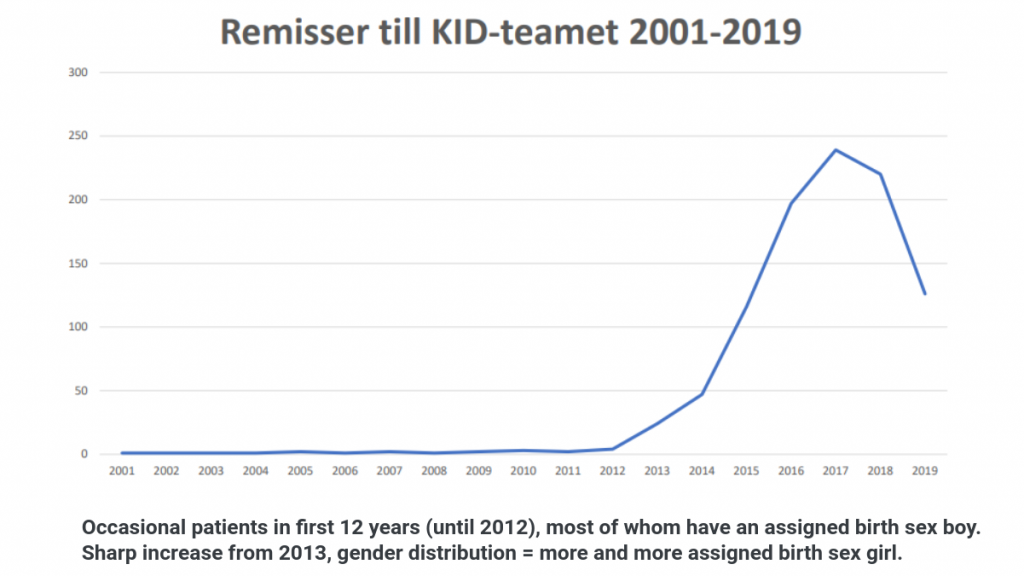 Source: Presentation by Louise Frisén, Chief Physician, Associate Professor of Child and Adolescent Psychiatry at the KID (Stockholm) clinic for gender incongruence and gender dysphoria – delivered at a Swedish Medical Ethics Council Seminar February 6, 2020
The sudden, sharp increase suggests a triggering event. Certainly, the explosive growth in natal females seeking gender transition is a new phenomenon throughout high-income countries. It has coincided with the advent of social media and the popularisation of "transgenderism" in mainstream media and on-line.
Swedish child psychiatrist, Sven Roman has compared the explosive growth in the number of cases of gender dysphoria to other psychiatric conditions, such as eating disorders and self-harm behaviour, that are known to spread with social contacts. He documents the process of discovery that the medical community went through to understand how to best treat these kinds of conditions. Over the past decade, he says research has proven that supportive psychotherapy can reduce or stop self-harm behaviour within 3 months. Of the avalanche of gender dysphoria cases being referred, he says:
Unlike the epidemic of self-harm behavior, (gender dysphoria) care providers are not exploring to find the right treatment. Instead, on a broad front, drastic treatment with high doses of sex hormones and breast and genital surgery is introduced. This despite the lack of any scientific evidence for these treatments for children, and probably not for young adults either.

Sven Roman, MD and child psychiatrist
In the fall of 2019, there was a 65% decline in the number of referrals to gender clinics in Sweden. This corresponded with experts calling on the government to review clinical protocols and more balanced media coverage of the phenomenon of regret among gender transitioners, including the airing of a documentary entitled "Trans Train".
The 3-part documentary includes several interviews with detransitioners and revealed that medical transition of minors is not evidence-based. A high profile transwoman in Sweden – Aleksa Lundberg – also came out in the media saying that if she were to go back and make the decision again "I might not have had the surgery". She said she had believed that "there was a more scientific basis" for this healthcare – but has since realized that that is not the case. She says people deserve "a more complex narrative" than the simple public narrative that the media has been promoting on the topic of gender transition.
Referrals have remained steadily lower, indicating that the medical necessity of gender transition was questionable for many of the youth being referred for treatment. We are told that the treatment of minors now (unofficially) includes referring many to psychiatric evaluation. Previously, we are told that almost 100% of trans-identified youth who were referred to the gender clinics were prescribed puberty blockers or cross-sex hormones.
Some Background
In the fall of 2018, Sweden's Social Democrat government proposed a new law that would have reduced the minimum age for sex reassignment surgery from 18 to 15, remove any need for parental consent and allow children as young as 12 to change their legal gender.
The government received a major backlash from the scientific community, however. Christopher Gillberg, a professor and psychiatrist at Gothenburg's Sahlgrenska Academy, wrote an article in the Svenska Dagbladet newspaper warning that hormone treatment and surgery on children was "a big experiment" which risked becoming one of the country's worst medical scandals.
The Swedish government shelved their proposed law and instead, have instituted a 3 part review in response to a proposal from The Swedish National Council on Medical Ethics.
Ongoing Review Tasks Three Government Agencies
In late 2019, the Swedish National Council on Medical Ethics proposed that the Ministry of Health and Social Affairs task three government agencies to "strengthen the knowledge base for the assessment and treatment of gender dysphoria among children and adolescents". They outlined their concerns as follows:
In our dialogues with stakeholders, we have encountered widely differing views on the assessment and treatment of gender dysphoria, which also characterizes the specialist literature and public debate. These differences are partly about the facts and how they should be interpreted, and partly about values.
And
Irrespective of their attitude to health care activities in this area, the actors make it clear that the scientific basis needs to be strengthened. When the Swedish National Council on Medical Ethics has discussed ethical issues regarding gender dysphoria, knowledge gaps and uncertain knowledge has been a central theme.
In their letter, three government agencies were highlighted as needing to participate:
The Swedish Agency for Health Technology Assessment and Assessment of Social Services (SBU) – to undertake a systematic literature review of the scientific basis used for assessing children and young people with gender dysphoria, and what is known about the long-term effects on physical and mental health. This should also include a review of what is known about the causes of the increase in the number of children and young people, particularly girls, seeking assessment and treatment for gender dysphoria in high-income countries. Differing claims about how common it is for people, who have begun treatment for gender dysphoria as children or adolescents, to change their minds, occur in the debate. What is known about this should also be included in the review.
The Swedish Medical Products Agency – to analyse the off label prescription of puberty blockers and hormones to children and young people.
The National Board of Health and Welfare should be instructed to urgently update its knowledge support material entitled ´God vård av barn och ungdomar med könsdysfori´ ('Good care for children and adolescents with gender dysphoria').
Sweden National Board of Health and Welfare Update
The NBHW are revising their treatment guidelines, to be distributed for comments to organisations and the public during 2021 and finalised 2022.
Officially and to date, the National Board of Health and Welfare has only released a preliminary report on "The development of the diagnosis of gender dysphoria": https://www.socialstyrelsen.se/globalassets/sharepoint-dokument/artikelkatalog/ovrigt/2020-2-6600.pdf
The summary conclusions from that report state:
"The diagnosis of gender dysphoria is increasing in the population, especially among children and young adults, where the proportion of new cases among 13– 17-year-old adolescents registered as female at birth has increased most. The increased rate of new cases will lead to an increasing total number of people diagnosed with gender dysphoria. In light of this, the development will require that health care is appropriately designed and sufficiently robust to ensure comprehensive investigation and treatment. In addition, treatment can be lifelong, which means that people with gender dysphoria need support from the healthcare system for extended time periods. People with gender dysphoria, especially young people, have a high incidence of co-occurring psychiatric diagnoses, self-harm behaviors, and suicide attempts compared to the general population. Co-occurring psychiatric diagnoses among people with gender dysphoria are therefore a factor that needs to be considered more closely during investigation. Suicide mortality rates are higher among people with gender dysphoria compared to the general population. At the same time, people with gender dysphoria who commit suicide have a very high rate of co-occurring serious psychiatric diagnoses, which in themselves sharply increase risks of suicide. Therefore, it is not possible to ascertain to what extent gender dysphoria alone contributes to suicide, since these psychiatric diagnoses often precede suicide."
Swedish news coverage of this report also reports that "the authority's survey shows that people with gender dysphoria, especially young people, have a high incidence of concomitant psychiatric diagnoses, self-harming behavior or suicide attempts compared with the rest of the population." Further, "The diagnoses that stand out are depression, anxiety disorders, ADHD and autism."
In the group of 13–17-year-old natal females, the Swedish NBHW report states that the comorbidity is greatest. In this unprecedented cohort of teenaged girls seeking gender transition the following co-morbidities were found:
32.4 percent anxiety disorder
28.9 percent some form of depressive disorder
19.4 percent ADHD
15.2 percent autism
The report also raises important questions about causation and suicide risk for people with gender dysphoria given the "very high rate of concomitant difficult psychiatric diagnosis". This makes it difficult to distinguish one from the other with regard to suicide risk, said an investigator at the National Board of Health and Welfare.
Current Treatment Protocol in Sweden
Sweden does not allow gender-affirming surgeries on youth under the age of 18.
According to a recent video, as of late 2020, only child psychiatric specialists are able to refer children to gender clinics for assessment that can lead to the initiation of puberty blockers or cross-sex hormone therapy. The country continues to seek additional evidence to support these care standards.
The review by the Swedish Agency for Health Technology Assessment and Assessment of Social Services has not found any evidence to explain the increase in prevalence of children and adolescents who seek gender transition and "few" studies on gender-affirming treatment. The review does not provide any opinions on the conclusions or methodology used in those studies. The summary of this review is available in English here:
https://www.sbu.se/en/publications/summary-available—gender-dysphoria-in-children-and-adolescents-an-inventory-of-the-literature/
Sweden's Increase in Referrals to Gender Clinics Similar to Canada
Sweden had seen a 1,500% increase in referrals for gender transition between 2008 and 2018 according to data from Sweden's Board of Health and Welfare. The increase in Sweden is being driven by youth 13-17 years old born female. This trend is consistent with the data reported by Trans Youth Can! – a group running a voluntary observational study on youth who have been referred for puberty blockers and other hormone therapies in Canada.
Conclusions
The fast-tracking of medical transition appears to be the protocol in place at many of Canada's gender clinics, with parents and some detransitioners expressing surprise and shock that medical transition is being offered as the 1st line of treatment. The sharp drop-off in referrals in Sweden corresponded to the realization by parents and General Practitioners that sending children to a gender clinic would not necessarily provide them with additional assessment or services, but rather put them on a fast-track to puberty blockers and cross-sex hormones.
The experience in Sweden, and corresponding similarities in Canada, points to a significant gap in assessment and services for trans-identified youth to ensure that their long term physical and mental well-being is prioritized over and above a quick fix of puberty blockers and cross-sex hormones. Research indicates youth become trapped in a one-way medical path as almost 98% who are prescribed puberty blockers proceed with medical transition even when there is no evidence of long-term benefits.
Further, suicide risk is often used as the rationale for easy access to medical transition for trans-identified children and adults. Pro-transition advocates consider the need for assessments and screening to be dehumanizing and unnecessary. Clearly, the data from the Swedish NBHW does not support this position. People who commit suicide have an underlying mental illness that requires expert treatment and care. It would be medically negligent to avoid psychiatric assessment and/or deny corresponding psychological services to provide treatment for this population where the risk of suicide is elevated due to these comorbidities.
It will be very interesting to see how the official clinical guidelines in Sweden take shape and evolve over the next 2 years.
When will Canada start asking questions like Sweden?