The results of a new Nanos public opinion poll illustrate a massive disconnect between the views of the Canadian public and the legislative effect of Bill C6. The public opinion poll was commissioned by the Justice Centre of Constitutional Freedoms who've repeatedly voiced concerns about the proposed legislation impacting Canadians' constitutional rights and freedoms.
The opinion poll asked a number of questions related to ensuring consenting adults are able to access the counselling services of their choice, regardless of sexual orientation or gender identity. The poll also asked a number of questions to assess the Canadian public's views on requirements of the healthcare profession to assess whether it is in the best interest of a young person to medically transition to a different gender, or ensure that counselling services that take a watchful waiting approach are available for children and minors who experience gender-related distress.
A clear majority of Canadians polled voiced agreement with the statement "There should be strict requirements for healthcare professionals to assess that it is in a young person's best interests to irreversibly alter their body if it does not match their gender identity."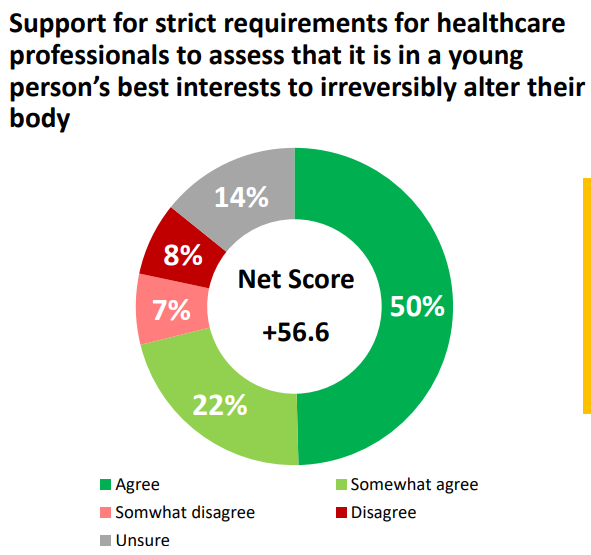 This clear majority also agreed with the statement "Counselling services which take a wait and see approach should be available for minors who are thinking about changing their bodies through the use of drug treatments, such as puberty blockers or opposite-sex hormones."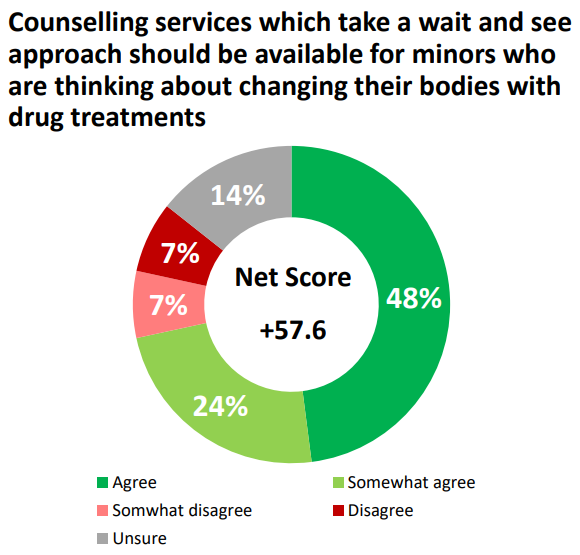 Canadian experts in the field of gender and sexuality research, Dr Zucker and Dr Cantor, have told the Canadian government that gender identity should not be included in legislation that seeks to criminalize counselling practices because the effect will be to restrict access for children and young people who struggle with gender dysphoria to a medicalized pathway.
There has been no media coverage in Canada of the concerns being raised in other countries about the standard of care that is being applied to children and young people who present to gender clinics with gender-related distress. The Canadian public is unaware of the evolution in the standard of care and that the philosophy of care has transitioned to the "gender-affirming" approach.
The "affirming care" approach lacks a clear definition, even among healthcare practitioners. Many interpret the approach to mean the provision of "emotional validation, psychological safety and support" to young gender dysphoric patients and their families (Wagner et al., 2019) recognizing that gender dysphoria is often a transient developmental phase in young people (Ristori & Steensma, 2016; Zucker, 2018). However, "affirming care" is being increasingly interpreted in Canada in terms of viewing gender dysphoric young people as having a permanent transgender identity, with a focus on increased access to biomedical (hormonal and surgical) gender-confirmation procedures. Bill C6 has been drafted with this particular point of view as it provides no clear exception for healthcare professionals to offer supportive counselling services that may result in young people re-identifying with their birth sex after a period of "wait and see".
CPATH, the Canadian Professional Association of Transgender Health, has adopted the position that any form of counselling as can be seen in their briefing to the Canadian government Standing Committee on Health in 2019 in which they advocated for criminal legislation against "gender conversion therapy". We believe the effect of Bill C6 will be to eliminate forms of talk therapy available for gender distressed youth that may help them resolve feelings of gender dysphoria.
Recent research based on the Canadian observational study taking place at gender clinics across the country found that 8.8% of youth being referred for medical gender transition services in Canada have participated in "conversion therapy" and a further 9.7% of parents had considered sending their gender distressed children to "conversion therapy". The following information about the prevalence of Canadian gender conversion therapy was published in the Journal of the Endocrine Society a few months ago:
Parents/Caregivers reported 8.8% of youth had participated in conversion therapy, while an additional 9.7% had considered having their youth participate. (Mokashi, et al. 2020)

Trans and Non-Binary Youth Accessing Gender Affirming Medical Care in Canada: New Research From the Trans Youth CAN!, Journal of the Endocrine Society
If the researchers' definition of conversion therapy is interpreted by Canadian courts as conversion therapy after Bill C6 is passed, then hundreds of Canadian families may be facing 5 year prison sentences for sending their children to counselling services. It is highly unlikely that hundreds of Canadian youth are currently being forced into coercive practices designed to change their gender identity, but the definition of conversion therapy in Bill C6 does not specify that counselling services for minors is limited to forced or coercive practices.
Canadian Gender Report has requested the questions that were used in this survey on separate occasions from 2 of the researchers to understand how "conversion therapy" is being interpreted and defined. We have not yet received a reply to our request for information.
It is our understanding, based on publicly available CPATH information such as the briefing to the Canadian government to criminalize gender conversion therapy, that the intent of Bill C6 is to draft the legislation in broad terms such that any form of counselling for gender dysphoric youth that is positioned as an alternative to medical gender transition will be considered "conversion therapy". This is becoming the pervasive view in North America as pro-medical transition advocates continue to advocate for a "one-size-fits-all" treatment pathway that relies upon medicalization, rather than talk therapy.
The Canadian public strongly supports caution and restrictions on the healthcare profession to ensure medical transition will be in the best interest of young people. The Canadian government, however, is about to pass overly broad legislation that will scare off any healthcare professional from taking a cautious approach with minors who are seeking medical gender transition.
Respected countries outside of North America have started to investigate and take a more cautious approach. We expect the Canadian healthcare system will eventually be forced into some kind of reconciliation as evidence-based treatment models that include talk therapy will be available in other countries yet will be unavailable in Canada due to Bill C6 and similar provincial legislation, which will result in medical harms for gender non-conforming youth. 
The Nanos opinion poll also revealed that a strong majority of Canadians support the right of LGBTQ adults to access the counselling services of their choice, regardless of sexual orientation or gender identity. Bill C6 is a bait and switch. It's being sold to the public as one thing, but Canadians are going to be stuck with a law that's not as advertised.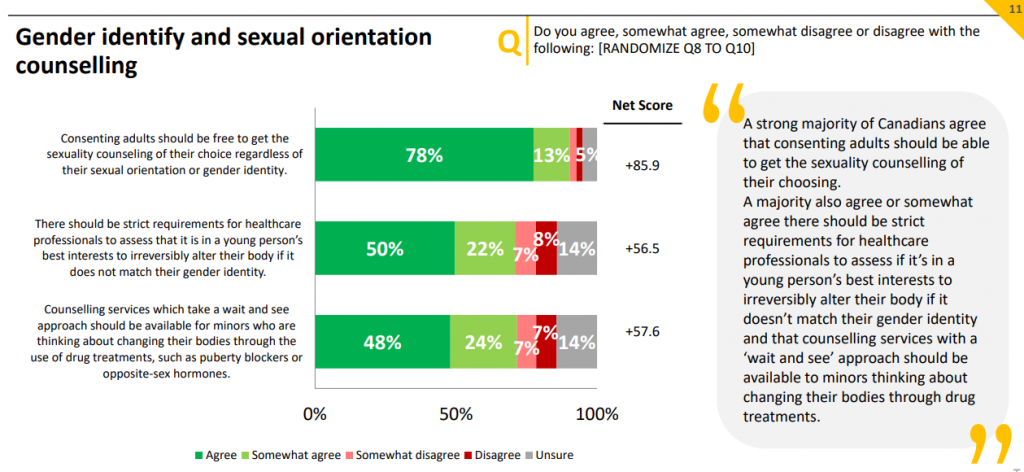 ---
Arati Mokashi, MD,FRCPC, Margaret L Lawson, MD, Sandra Gotovac, PhD, Greta R Bauer, PhD, SUN-LB14 Trans and Non-Binary Youth Accessing Gender Affirming Medical Care in Canada: New Research From the Trans Youth CAN!, Journal of the Endocrine Society, Volume 4, Issue Supplement_1, April-May 2020, SUN–LB14, https://doi.org/10.1210/jendso/bvaa046.2153
Ristori, Jiska & Steensma, Thomas. (2016). Gender dysphoria in childhood. International review of psychiatry (Abingdon, England). 28. 1-8. https://doi.org/10.3109/09540261.2015.1115754
Jill Wagner, Andrew C. Sackett-Taylor, Juanita K. Hodax, Michelle Forcier, Jason Rafferty,
Psychosocial Overview of Gender-Affirmative Care, Journal of Pediatric and Adolescent Gynecology,
Volume 32, Issue 6, 2019, Pages 567-573, ISSN 1083-3188, https://doi.org/10.1016/j.jpag.2019.05.004.
Kenneth J. Zucker (2018): The myth of persistence: Response to "A critical commentary on follow-up studies and 'desistance' theories about transgender and gender nonconforming children" by Temple Newhook et al. (2018), International Journal of Transgenderism, https://doi.org/10.1080/15532739.2018.1468293