This is a site for parents who are trying to learn more about the transgender trend and understand the latest research on the topic. It's for teachers, therapists and other professionals who need to navigate the quickly changing landscape of gender. It's for policymakers and journalists trying to understand the impact gender ideology is having on everyone.
We'll be writing for the Canadian context, bringing to light new research that's happening here and around the world. We'll be questioning why children and youth are often immediately affirmed in their chosen gender when this model of care lacks evidence and independent scrutiny.
We'll also assess the implications of new and existing legislation. Canada has gone the farthest of any western country by making "gender identity and gender expression" a protected characteristic in our Human Rights Code.
We acknowledge that transgender people face significant challenges that society should attempt to address. But we also believe the philosophy of self-identification has significant consequences for everyone, particularly women and children. It's important to openly discuss how legislation affects Canadian families and our communities, regardless of who may be offended by such discussion.
We're concerned about the lack of open debate and the one-sided viewpoints presented in the media. Media reports often suggest that the mainstream medical community is on board with the gender-affirming approach. We'll be reporting on what is known and unknown about this practice so people can better inform themselves with facts and evidence.
We think it's important for parents and policymakers to consider the implications of using our education system to teach that each child has a gender identity that over-rides biological sex.
Just like other western countries, Canada is experiencing an exponential increase in the number of children being referred to gender clinics. The data in the chart below was sourced by Trans Youth Can, an organization conducting a study on puberty blockers at 10 gender clinics across Canada.
Numbers of youth referred to 10 gender clinics in Canada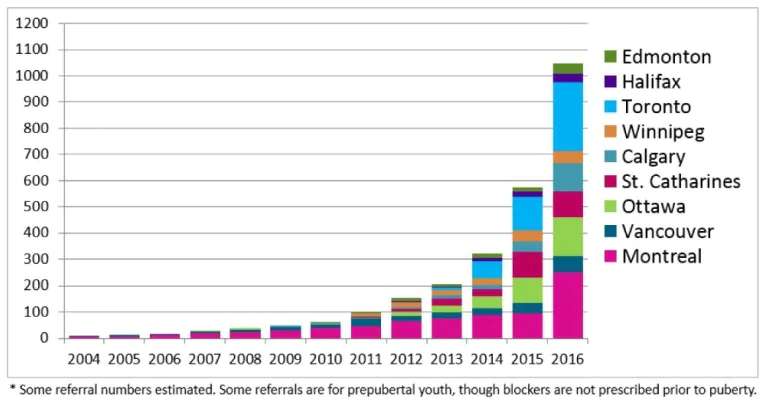 Gender-affirming care includes socially and medically transitioning children to their chosen gender identity. This has become standard practice in Canada and other parts of the world, even when there is a lack of evidence behind this approach. Further, the rapidly increasing number of adolescent girls seeking gender transition is a new phenomenon that is not yet understood.
In support of our mission, we will not be publishing comments from advocates of gender affirmation unless they can bring forward the results of longitudinal studies that include a control group of children who were not subjected to gender-affirming care. In other words, we call for independent and unbiased research to verify the health outcomes over a sufficiently long period of time.
We don't think it's transphobic to openly question whether medical transition is appropriate for children.
Thank you to the trail-blazers who have been using evidence-based research to question the outcomes and ideology behind gender affirmation. We hope our Canadian initiative will strengthen the global calls for caution and independent research. Our most important goal is to help parents and families make informed decisions and find strategies to best support gender non-conforming kids.
We hope that parents, the media and policy-makers will use this site as a source of information, as well as young people and anyone who would like to know more about the subject and is frustrated with the one-sided view currently promoted.
Anyone interested in learning from others is very welcome here. Please subscribe to our blog to receive our latest reports.