An article in Canada's National Post last week explored how children can socially transition their gender at school without the knowledge of their parents.
The article received more than 1000 comments, most of them highly critical of the policy to keep a child's gender change a secret from parents. This practice in schools is becoming common policy, the article noted.
"It's just one way the education system has become intimately involved in the transgender process, which affects an "exponentially" growing number of young Canadians. "
The article also exposed how schools can refer children to gender clinics without parental knowledge or approval.
Dr Margaret Lawson, a pediatric endocrinologist at CHEO in Ottawa, was interviewed for the article and said that the role that schools are playing has indeed changed, and for the better.
She also claims that the theory that the phenomenon of rapid onset gender dysphoria (ROGD) in adolescent girls is driven largely by social contagion has been "conclusively disproven" by one of her studies. The study does nothing of the sort. It is based on a single question in a self-reported survey. The study does not relate the onset of gender dysphoria with the start of puberty, which is one of the defining characteristics of ROGD. In fact, we simply do not know enough about ROGD and schools, clinics, and parents need to be more cautious before starting children on a pathway to irreversible medical changes.
Social gender transition is not a neutral act, and therefore children who are adopting a new name and pronouns at school are implicating the schools in engaging in a form of psychosocial intervention that can lead to a greater potential for medical gender transition.
James Cantor, a former scientist with Toronto's Centre for Addiction and Mental Health, pointed out in the article that "The schools' role is troublesome given evidence that suggests social transitioning makes it more likely for a young person to move on to medical transition, which can include cross-sex hormones and gender-reassignment surgery". We're disappointed that Cantor's point of view was not explored in more depth in the Post's article.
While Dr Lawson declares that "no one chooses to be transgender," it's the experience of many CGR families that the transgender experience of their child was a phase, and in many cases something that was related to the environment the child was in, and not a fixed part of the child's identity. Therefore, a school environment that teaches and encourages children in transgender identification undermines the family's role to inculcate children in moral values and creates a wedge between parent and child. This is an unacceptable abuse of power by the education system, and one in which Canadian families are not able to escape given the lack of school choice and lack of parental control over the school environment.
CGR believes that schools should provide a safe yet neutral space for children who are exploring or questioning their gender. Given the multitude of mental health issues, trauma, or other factors that can influence a child to adopt a transgender identity, it is imperative that parents be informed and aware of this developmental change in their child if the school is to uphold the role of parents as guardians, otherwise, parents are reduced to babysitters during school off-hours.
A question that really needs to be explored by Dr's Lawson and others who seem so eager to disprove ROGD and the multiple reasons why young people may adopt a transgender identity (whether by choice or not) is why a disproportionate number of both indigenous and white children are declaring that they're transgender (vs a much lower number of visible minorities compared to the population expectations). The Trans Youth Can data reveals an extremely disproportionate number of children and young people seeking referrals to gender clinics from disadvantaged backgrounds, including low-income households. Why would this be the case if "greater awareness" is what's driving the numbers of trans-identified youth? Are there other social factors at play?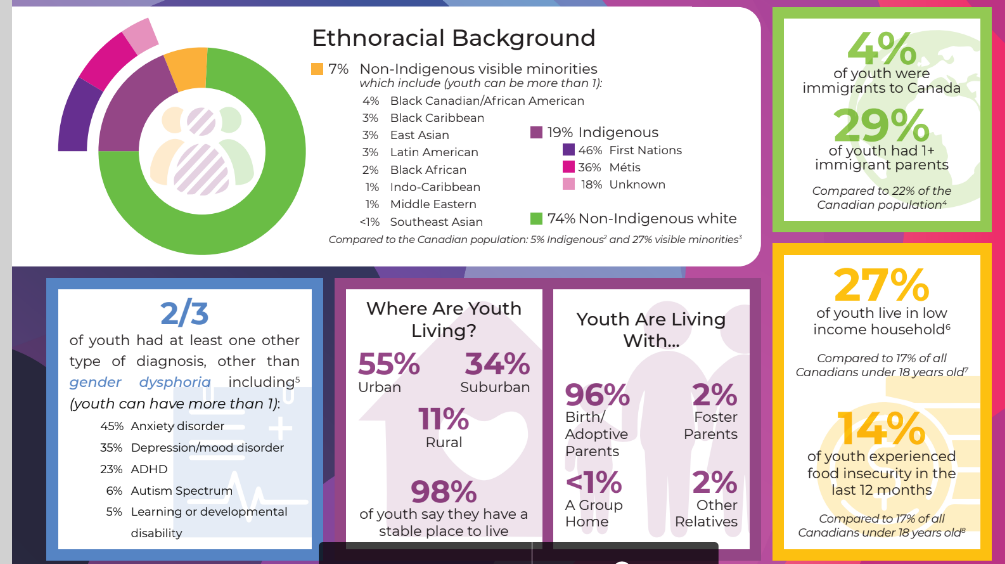 For Canada to provide a safe and supportive environment for all children to thrive requires that the professionals in white coats who we trust to make good decisions are able to remain open to the many different possibilities driving the recent explosion in transgender identification among youth, and critically explore the most appropriate ways to ensure long term health and well-being. 
Gender-related distress is a complex issue requiring careful consideration. This is why the UK, Sweden, Finland, and other responsible healthcare professional bodies are moving away from unquestioned "affirmation". The role of adults is supposed to be one of safeguarding children, after all. We can see that in Canada, schools have already adopted gender self-id without regard for the health complexities and moral implications of removing parents from critical decisions such as a child changing their name and using a different washroom or sharing a room with the opposite sex on an overnight school trip because they've declared they have a different "gender identity". All of these are valid safeguarding concerns of parents.
The gender self-ID mandate of schools should require a referendum in each of our provinces and territories given that it is becoming the de facto consequence of the addition of gender identity to our human rights codes. At a minimum, Canadian parents should have a choice of school environment that respects their role as guardians of their child's well-being.
You might like to forward this brief guidance from Genspect to your school, principal, or teacher: